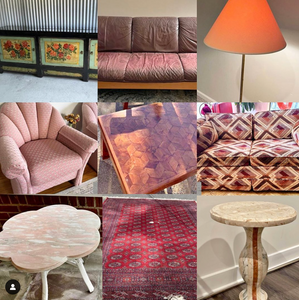 I source; you decide if and when to buy.
No markups. 
This fully customizable home decor shopping service includes:
An initial 30-minute phone or video call to discuss exactly what you're looking for -- measurements, colors, price range.
60 minutes of efficient, expert online sourcing

An email with a minimum of 20 links to items that match your wishlist. This can be 20+ options for one item, 7+ options each for three different items (you get the idea) or a curated edit of the best of what's available in your area or that matches your criteria.
This service is ideal for someone looking to save tons of time and thousands of dollars while finding unusual, special items for their home or business. That can include furniture (emphasis on pre-owned), lighting, original art, mirrors, rugs, vintage or handmade kitchen, table and barware. My specialty is sourcing the best pre-owned and vintage furniture and decor on the market. 
It's also great for quickly finding the best of Facebook Marketplace in your area, Craigslist, Shopify- and Instagram-only dealers. Timing is of the essence when shopping on these sites where items can move very quickly.
An example of what's possible when you're open to buying pre-owned furnishings: in one night, I sourced items on Philly-area Facebook Marketplace for an imaginary monochromatic living room. A vintage leather sofa, 9x12 rug, coffee table, a pair of scalloped marble tables, floor lamp, and pair of 80s armchairs came in at a grand total of $195 -- unbelievable, but I could show you the screenshots of the listings as receipts.
I can look for something super specific, though you may find it's even more fun and serendipitous for me to do a roundup of the coolest things I find in your area that match your style guidelines and budget. Up to you!
If your price range is higher, I can focus on 1stDibs, Chairish and higher-end vintage dealers across the US, but even those items can go fast.
You'll benefit the most from this service if you (and your partner, if applicable) have already decided on a budget and wishlist and you're willing to make purchasing decisions quickly.
Once you know what you want me to shop for, click 'add to cart' up top. Please be sure to include your email and phone number in the contact info. Then expect an email from nomnomemporium@gmail.com to schedule our call and discuss your ideal timing for sourcing and receiving the email of links.
Can't wait to meet you!
-Kristin Campbell